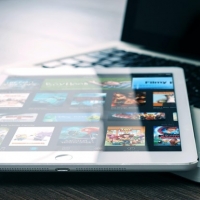 3 Types of Technology That Help Seniors Connect With Loved Ones During COVID-19
by Mary Shannon | September 18, 2020
Mary Shannon offered to write this excellent article about seniors and the challenge of technology during COVID-19. Thanks Mary!
The
coronavirus pandemic
has been an emotionally challenging time for people of all ages, but seniors — primarily those residing alone or in adult living facilities — have been hit especially hard. Due to their higher risk of contracting COVID-19, older adults have been asked to limit face-to-face interactions as best as possible — which has left many seniors feeling lonely and isolated in their homes. However, technology can help older adults to connect with their loved ones throughout the pandemic — even if they can't be together in the same space. To explore three types of technology that can help to make the pandemic more tolerable for older adults and their families, read on.
1. Reliable Internet Connection
A reliable home internet connection can benefit seniors in a variety of ways — especially in the age of COVID-19. To participate in
Redemption Rock's
live-streamed Sunday service, online cafe time, and virtual bible study, for instance, your senior loved one will need a reliable internet connection that can be accessed from his or her smartphone, tablet, or laptop. Plus, high-speed internet can be accessed in many parts of the U.S. — even if your senior lives in a rural area where broadband internet isn't readily available.
If your senior parent, friend, or relative is new to using the internet, several websites can be used to provide your loved one with the information needed to get the most of his or her time online. Several of these
websites
include Skillful Senior, Microsoft Accessibility, GCFLearnFree.org, and Meganga.
2. Tablets and Laptops
In addition to having a reliable home internet connection, a senior-friendly tablet or laptop can be a great way for your older parent, friend, or relative to browse the internet, video chat with loved ones, watch movies and television shows, play games, stream music, and access social media apps and websites. And according to the
experts at CNET
, some of the best computers and tablets for older adults include the Google Chromebook, Apple iPad, and Amazon Fire HD 10. iPads are some of the easiest devices to learn and use — but they're typically more expensive than Chromebooks and Amazon Fire tablets.
3. Senior-Friendly Cell Phones
While tablets and laptops are great for video chatting, watching movies, and browsing the internet, your senior loved one will also need a reliable cell phone in order to make and receive phone calls. While many smartphones can also be used to video chat with loved ones, play online games, and browse the internet, a basic cell phone without internet capabilities may suffice if your senior will be using his or her phone primarily for talking.
According to
Lifewire
, some of the best basic phones include the Easyfone Prime A1, USHINING U181, and ZTE Altair 2. If a
smartphone with internet access
would be best for your loved one, however, several senior-friendly options include the Jitterbug Smart2, Motorola Moto E⁴ Plus, and Samsung Galaxy Note9.
Download Senior-Friendly Mobile Apps
To ensure that your senior has everything he or she needs to connect with you and other friends, family members, and neighbors throughout the pandemic and beyond, remember to download the following apps to each one of your loved one's tech devices:
Social media apps like Facebook, Nextdoor, and Instagram
Video platforms such as FaceTime (for iOS devices), Marco Polo, Zoom, Skype, and Google Hangouts
Entertainment apps like YouTube, Netflix Party, Readeo, and Words with Friends
Other senior-friendly apps such as Pill Monitor, MedWatcher, iBP, and Pocket Yoga
It may take a while for your senior to feel comfortable using these new tech devices and mobile apps, but the time and effort you put into teaching your loved one will be well worth it. The pandemic could change the way we socialize and interact with one another for the long-term, but technology can help to keep your senior happy, healthy, and socially fulfilled while sheltering in place and avoiding face-to-face interaction.