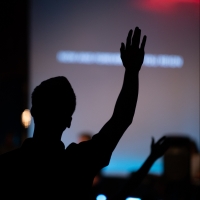 Sing Like We Believe It!
by Pastor Mike Pratt | August 28, 2019
I spent this past weekend with 265 other men in the mountains of Colorado at a Band of Brothers Men's Ministry Retreat. It was an AWESOME time of reflection, spiritual warfare, inner healing and learning! During those few days, we men gathered in the auditorium and belted out some songs of worship to almighty God! It was really stirring to stand among 265 men singing unashamedly, at the top of their lungs, as they wept and shouted in praise and worship of Jesus! I started thinking, "It'd be wonderful for that same thing to happen in church on Sunday!" Then, as I sat at my desk this morning, preparing the sermon for the upcoming Sunday, an email arrived in my Inbox. It's title: "Sing Like We Believe It!"
There's a line in that article that really struck me, "What do we do when we are standing in church on Sunday morning, unable or unwilling to sing to God out of joy and gladness?" The rest of the article is well worth the 10-minute read. Please let me know what you think. Click
HERE
to read the article.